I spent the weekend in Atlanta, doing what I love most. I got to spend Friday night with my girlfriends (those same girls in those 20 something posts of mine–which a new one should be coming this week–stay tuned!), and then Saturday we went to a wedding for one of my closest friends from high school, Caroline. We spent so many weekends at her lake house and so many week nights studying french and riding around in the Club Car at her house….she is one of my favorite people in the world and I love weekends like this when we can all reconnect. She looked gorgeous, as we knew she would, and it was really nice to see high school friends again–we've now got more reunions planned (in addition to our 10 year official one this fall!)
Cathleen, Caroline, Me, Jessica and Cat (senior year of high school, we got to wear our College shirts).
Casey, Cathleen, Caroline, Me, Cat, Jessica, Whitney and Dot this past weekend!
Caroline's wedding was beautiful and classic, just like she is. Josh and she danced the night away and then had the most beautiful exit and "getaway" car–I loved it all.
And what I wore? This was a really hard decision but I'm glad I wen't with what I did–which was this red dress from Anthropologie. It was classic enough, and still had some fun and flirtiness that I love.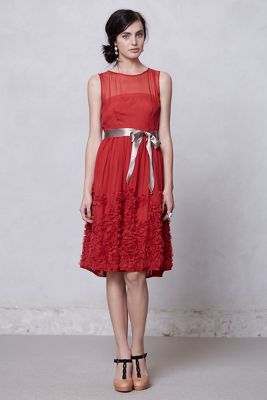 And a paired it with a sparkly belt, not the one it came with. (which I don't have a good picture of)–sorry. Honestly, this model makes it look weird, but it was super pretty in person.
Hope everyone else had a good weekend! I've got another crazy work week before heading to Richmond this weekend for more wedding festivities (Bridal Shower for Britt). Guess I'm at that age…it all started around 2 years ago, and probably for the next 5 years, all my friends will be getting married! Another best friend just got engaged (WOO HOO DOT AND ADAM!) in addition to my sister (WOO HOO LIZ AND ANDY!), and I've got three more weddings this year! So yeah…got a lot of fun times ahead and lots of dresses to choose…